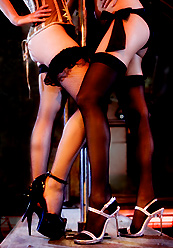 Lots of things fall under the category of "art."
Bizarre haunted houses
,
whole-roasted pigs
and now: contortionists wearing pasties.
Introducing
The Box at Nikki Beach
, a pop-up burlesque supper club landing in Miami for three days during Art Basel.
If you're familiar with New York's infamous den of booze and tomfoolery, then you know what to expect—socialites and celebrities getting soused at 3am while a carnie's worth of flexible performers put on a show that's a cross between Cirque du Soleil and
Eyes Wide Shut
. Expect gender-bending aerialists swinging from the rafters, avant-garde vocalists and an act so anatomically innovative we're not even sure we can tell you its name (or if it's legal).
The location for this is the second floor of Club Nikki, and if it sounds like something you need to witness in person, know that there are only six total chances to see it: three nights, two shows a night. The early show, at 8pm, allows you to absorb the scene with dinner dishes like
Seared Scallops and Truffle Mashed Potatoes
. For the late show at 11pm, there's bottle service and, according to the organizers, the performers will "turn up the heat."
We don't think they're talking about the temperature.