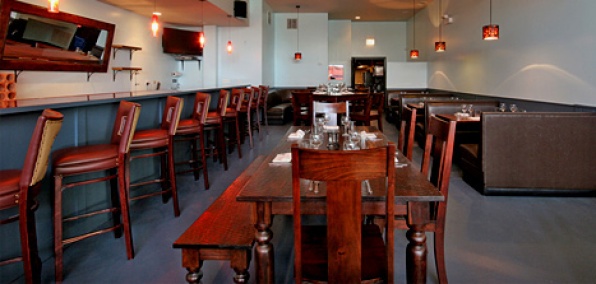 Summer getaways are wonderful things. The only problem is they're so hard to come by in November.

So welcome to Ceres' Table, hoping to open next week. (Keep your fingers crossed.)

We admit there's not a lot of beach along this stretch of Clark Street. But thanks to the dark-blue floors and soft-azure walls, you might feel like you've entered a sexy Mediterranean retreat.

There's a communal table in front, but grab a chocolate-colored leather booth near the back and settle in for a night of feasting: rabbit gnocchi, Caesar salad and grilled baby octopus swimming in puttanesca. The Palermo-born chef's a veteran of MK and Boka, which means you'll find your route won't be the same well-worn path of pasta and more pasta: think lamb shank in horseradish mashed potatoes and roasted pork loin with pineapple, quince and juniper berries.

There's also a beautiful bar with smart pendant lights sparkling above, but for right now it's little more than a whisper—a promise—of the wine list that is scheduled to debut sometime in mid-December. But since the name Ceres comes from the Sicilian-born goddess of grain and agriculture (that's her shining atop the Chicago Board of Trade), send her a little prayer that the liquor license comes through sooner.

And bring a bottle to sacrifice in her honor.