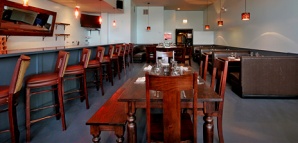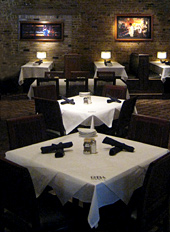 This town is pretty big. But with all the chophouses, steak palaces and meat emporiums it offers, you occasionally find yourself wondering if it can handle one more.
In the words of one anonymous Chicagoan: Yes, it can. All you have to do is plant it squarely inside the nearest brewpub. To wit: Sunday's debut of
RB Grille
, the juiciest news to come out of Rock Bottom Brewery in a very long time.
Don't get us wrong, Rock Bottom is still the place where you'll be greeted after work by the sweet smell of mash fermenting into your Erik the Red or Terminal Stout. Take a right when you enter to find your honey-chipotle wings, beer flights and Bulls games right where you left them.
If you keep going straight, however, you'll be rewarded with this handsome petite filet of a steakhouse. No, it's not the biggest in the world, but it's fully stocked with all the rich warm tones, slatted-wood blinds and exposed-brick charm you demand when about to slice into a 18-ounce Delmonico slathered in whiskey sauce, a 22-ounce porterhouse with peppercorn crust or a full-pound of prime rib.
With 120 bottles of wine available—about four times the variety offered by the sports-and-wings side of Rock Bottom—you may find yourself indulging in something bold and Italian rather than your usual brew.
Or even some wine.