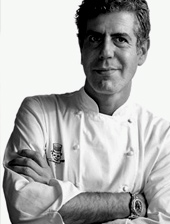 You may know foul-mouthed food personality
Anthony Bourdain
from
Kitchen Confidential
, his bestselling memoir of drug-addled cooking, or his current travel/food show
No Reservations
. As he preps for a Friday night celebrity chef showdown, we caught up with him to chat about sex in the kitchen, Icelandic delicacies and a foolproof sushi dating test. Here is what we can publish.


UD: So you're in town for an event at the Arsht with Eric Ripert and Jacques Pépin. Any hints as to what we can expect?

Anthony Bourdain: Well it's my ultimate mentor—the Buddha, my Obi-Wan Kenobi, Jacques Pépin—and my best friend, Eric. They'll do some cooking, I'll ask some questions and we'll roll with the punches.
UD: No cooking for you?

AB: If either of these gentlemen would allow me the privilege of peeling an onion I would be honored, but anything beyond that I'm on shaky ground compared to these guys.
UD: You're never really behind the stove anymore.

AB: You don't know my name because of my innovative cooking; you know my name because of an obnoxious over-testosterone memoir. My cooking will have left very little imprint on this world once I'm gone. I don't think I'd make it to the finals of
Top Chef
as a contestant, let's put it that way.
UD: You've got a two-year-old now. Are you going to let her date a chef?

AB: Oh god, please no. I'm going to forget you even said that. What a horrible thought.
UD: You've been to Miami quite a few times. What do you think of the food?

AB: I'm a big fan of Michelle Bernstein and always interested in seeing what she's doing and where she's doing it.
UD: We're going to assume you're talking about cooking. Where do you like to hang out when you're here?

AB: Well, there was this taco place next to Mac's Club Deuce, and they had this "stupid sauce" which was great. They've changed ownership, so I'm not sure if they still have the stupid sauce, but that used to be part of my routine—go to the Deuce for drinks, then eat a taco and then go home feeling pretty good about myself.
[Editor's note: The place is now called T-Mex, and they still have the stupid sauce.]
UD: Any favorite date spots in Miami?

AB: The Raleigh hotel has been our traditional date spot. It may not be the best restaurant in Miami by a long shot, but for us it's someplace comfortable and we feel like we can get away from the world.
UD: Will you be checking out Mr. Chow while you're here?

AB: Around the same time that me and Guy Fieri are found naked in a hot tub.
UD: You've eaten some strange stuff on camera—a cobra heart, sheep testicles. What won't you be eating again?

AB: There's no making rotten shark any better than it is. It was the worst single mouthful of food I've ever eaten.
UD: Where was that?

AB: Iceland.
UD: The locals eat that?

AB: It's their national dish, they eat it on holidays. It's basically putrid shark.
UD: You're a married man now, but back in the day you wrote about shagging ladies in the kitchen. You and the wife ever do it in the kitchen for old time's sake?

AB: Oh god no, we're respectable parents. Jesus, I'm like Ward Cleaver at this point.
UD: Any dating advice for single guys out there?

AB: Well, put it this way, first or second date I would always take a woman to a really good sushi bar and I would order uni, and if she didn't eat the uni, that relationship was pretty much over.
UD: Because?

AB: If she's immune to the charms of sea urchin roe or unwilling to try it, there's no hope. It's like finding six Billy Joel records in her collection when she's in the bathroom. It's a sign of the apocalypse. No good will come of it.