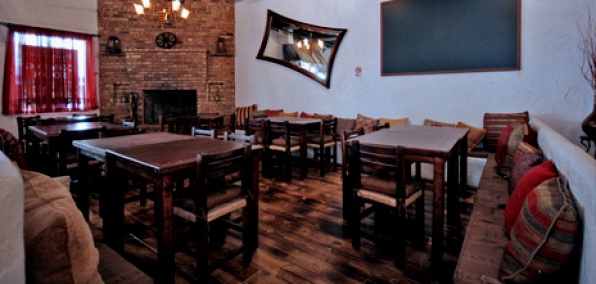 Let's consider for a moment that crowning achievement of Greek culture. We refer, of course, to the gyro.

Warm soft pita, tangy tzatziki covering chewy strips of…some sort of shaved rotisserie meat, which we're fairly certain has some lamb in it.

Here to take the guesswork out of the equation: Melanthios Greek Char House, a homey taverna opening today in Lakeview for long nights of flaming cheese, Greek beer, and whole lamb and pigs spinning over an open fire.

Located inside a former video store, the space looks like you've stepped into a scene from My Big Fat Greek-Themed Restaurant (but in a good way). You'll be surrounded by white stucco walls, cushioned by soft pillows, and warmed by a roaring fireplace on chilly nights—though a good shot of ouzo might be preferable.

You'll find Greektown staples like blazing saganaki, gyros, roasted chicken and moussaka. But since you're not actually in Greektown, no one will mind if you head toward the 20-ounce porterhouse or a 16-ounce bone-in rib eye. On weekends, the Arni Psito (whole roasted lamb) and Gournopoula (whole roasted pig) are the main attractions—the owner even designed his own spit to ensure that it cooks perfectly.

And they call Aristotle a genius.