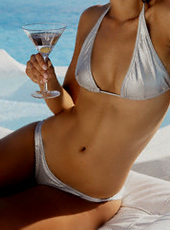 When a man says, "If you are going to be bad, you might as well be good," you want to pay attention to any swill he might be shilling.
So we took heed when local Drew Adelman combined his two favorite passions, fitness and nightlife, to create a new product—and thankfully, it's not a Billy Blanks Does Disco DVD.
Presenting
Devotion Vodka
, the world's first protein-infused vodka, birthed in our own backyard, to be released on Monday.
Devotion
conflates good and bad in the most rare and artfully confusing of ways—like low-carb pizza, or a stripper who's dancing her way through med school. Its flavor and consistency are almost identical to regular vodka—you'll be hard-pressed to notice a difference, save for a slightly milky nose from the infusion of casein (a protein found in dairy). Hence Devotion's high concentration of protein—a shot-sized serving delivers the equivalent of a Balance Bar or protein shake. 
Mad possibilities for your diet are flashing before you…spiked soups, post-gym vodka tonic chasers, martini-soaked sponge cake. It means you can finally get happy, repair musculature and fulfill the requirements of the Food Pyramid all at the same time.
Don't let anyone tell you you're a one-trick pony.