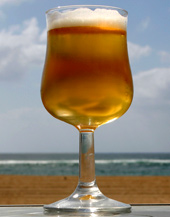 Nothing against bars, but sometimes you want to enjoy beer the way nature intended it.
Outdoors, under the stars…in a kayak.
Tonight the cosmos align for a groundbreaking event in the annals of your Friday night beer drinking that, for simplicity's sake, we'll call
Beer Kayaking
: a suds-soaked romp down the river, casting off from Blue Marlin Fish House in North Miami at 6pm this very evening (in other words, whatever plans you had for tonight, cancel them).
Think of this magical trip as the nautical equivalent of a pub crawl. Over the course of one evening, you'll sample half a dozen beers and paddle your way through a moonlight cruise on the Oleta River, much the way your ancestors did, only with more beer cozies.
It all starts with a pre-kayaking sampler of some of your favorite microbrews (Avery's White Rascal, Monk in the Trunk) paired with Blue Marlin's world-famous smoked fish dip and other delicious bites. Then everyone hops in their kayaks and sets out down the river—with, naturally, a few coolers of brew in tow (think Dale's Pale Ale, Stone IPA).
Once everyone's back at shore and fully experiencing their kayaker's high, there'll be a bonfire, live DJ, more smoked fish and BBQ, and, of course, a last round of darker beers.
This is what the Summer Olympics have been lacking.