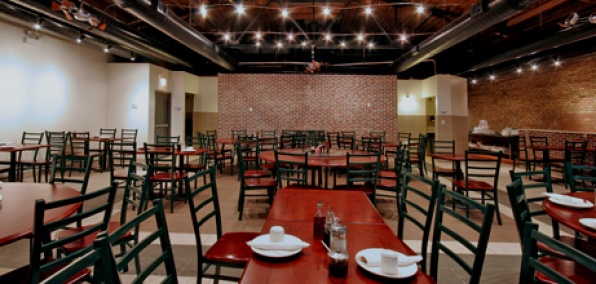 Argyle Street's felt a little sad lately. Oh, sure there's pho, plenty of noodle shops and lots of really good Vietnamese sandwiches. But something's been missing…

We've just found it: announcing the return of Sun Wah Bar-B-Q.

After 22 years, the famed Chinese spot outgrew its Argyle Street location, so it moved just around the corner to Broadway. You won't have trouble finding the new spot—those ducks are still hanging in the window (and maybe a big yellow squid or two).

You'll enter a bright and barrel-vaulted warehouse of a space—a onetime livery garage from Uptown's halcyon days. Push past the takeout area in front (where chefs will be tossing noodles and whipping up Peking Style Short Ribs in the window), and head to the big round tables with lazy Susans waiting for you to give them a spin.

Reacquaint yourself with favorites like crispy, barbecued Pei Par Duck or pan-fried shrimp served with red and green peppers and a little jalapeño. If you're feeling even more adventurous, there are lots of fried pig's intestines waiting, too.

And this winter, Sun Wah plans to add a lineup of medicinal soups to help you get through anything: chicken and ginseng to fight the flu, and a special men's-only soup that will cure anything that lingers from partying too hard the night before.

That is, if the pig intestines don't do it first.