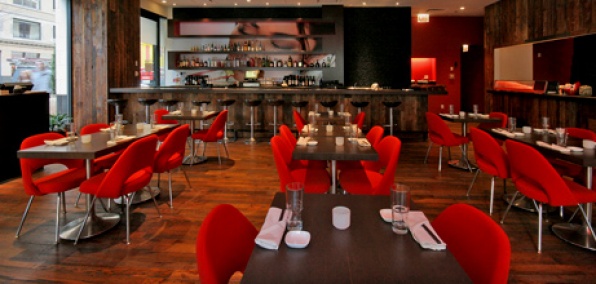 Between Twitter, Facebook and that new Victoria's Secret store on Michigan Avenue, it's easy to get distracted in this crazy, mixed-up world of ours.

So it's time to focus on the things in life that really matter…like sushi, sake and steak. Introducing Sushi Taiyo, now open in River North.

Think of this as your woodsy Japanese cabin hideaway—with better cell reception. If the address seems familiar to you, that's because it has shed identities faster than Clark Kent. Formerly Farmerie 58—and before that, Republic—now it's a place where the owners (who are also behind Shine and Rise) can treat you to what they do best.

They've closed the upstairs dining room, which means you can keep an eye on Ontario foot traffic via the large picture windows—all while sipping warm sake amid reclaimed barn-wood walls, red low-slung seating and a huge photomural of a girl using chopsticks in a strangely seductive manner. If that doesn't warm you up, there's always the wasabi martini.

Start with Kinomi Rolls (white tuna, avocado, topped with tuna, raspberries and raspberry sauce) or a Kobe Harvest Maki (fresh salmon, tempura pumpkin, topped with Kobe beef atop a pumpkin puree). But when your appetite's ready to wander, there's also Japanese-inflected hanger steak, broiled king crab legs and braised pork belly.

Sometimes it's all about the journey.