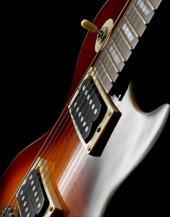 Washingtonians have always been a musical bunch: Marvin Gaye. Duke Ellington. John Philip Sousa. (You can never have enough patriotic marches on your iPod.)
So it makes sense that a service hell-bent on delivering a new, rare guitar to your door at your rock-fueled whim would be based here in DC. And it makes sense that after letting everyone else around the country get in on the action, they would save a little extra VIP action for us…
Introducing the hand-delivery service from
Guitar Affair
, now available for your emergency shredding needs.
You may well be familiar with GA as the Netflix for guitars (just without romantic comedies and unlimited rentals). They can currently introduce you to 160 rare six strings—from a John Lee Hooker model Epiphone to a Pete Townshend-worthy Les Paul (note: angst-fueled guitar smashing will cost you).
But since the national service is based near Dulles Airport (long known as the fertile womb of rock and roll), you can forgo the steep delivery fees, save the shipping time, and opt to pick up or drop off your temporary ax at Guitar Affair HQ.
Even better, owner Jim Basara will let you summon your Eric Clapton Signature Strat via local courier, or, in some cases, even deliver your new ax himself.
Call it your own personal crazy train.