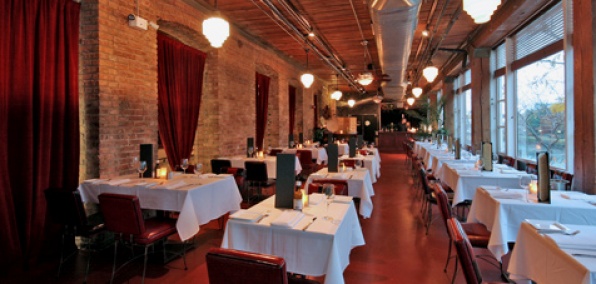 Let's get a drink—a nice glass of wine somewhere. Maybe some dessert, maybe something more. But let's make it discreet, romantic even… Water views would be nice.

In fact, we know just the grocery store.

Introducing The Atrium at Fox & Obel, now quietly pouring vino in Streeterville.

The place is secluded by thick velvet drapes near the front of the store—just follow the ramp near the front entrance to find it. Inside, you can sink into deep club chairs with something French and bubbly (or even some champagne) while watching the autumn leaves fall into the waters of Ogden Slip. And unlike the F&O sandwich counter, there are waiters here, so you won't feel like you're dining in the middle of a wine aisle—since everyone got so uptight last time.

The menu offers more than a dozen bottles, more by the glass, and even flights. There's also a seasonal menu, allowing you to pair your merlot with a pumpkin-and-roasted duck risotto, or bordeaux with braised-beef stew. And if you need to calm yourself after watching Paranormal Activity across the street at AMC River East, you'll find cheeses, charcuterie, pear-and-apple tarts, and crème brûlée waiting for you.

If that doesn't warm your blood, something spooky is going on.