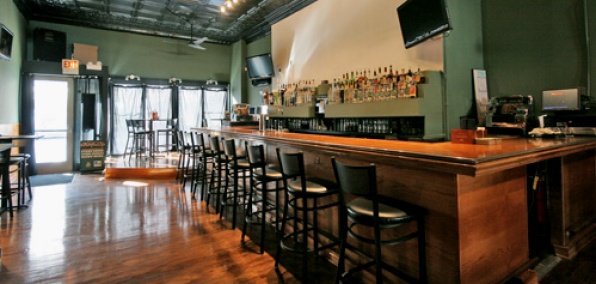 Monday.

So far, so good. But, if you need a little encouragement, just keep focused on this:

6 Corners Sports Bar, a new Wicker Park retreat, is out there just waiting for you with all the football watching, beer drinking, slider eating and—for a little half-time entertainment—funnel cake chocolate-dipping you can handle.

It's located in the former D'Vine space, but the owners decided indulge to their inner Bill Swerski Super Fans since they happen to be the hosts of EC Sports, the SportsCenter of Comcast's Public Access channel, which will be taped here monthly.

Still, 6 Corners is more of a plain-white jersey of a space, agnostic when it comes to team allegiances. So you can come in and grab a table—any one will do, since there are 14 screens covering every angle—and settle in for a night of football (or tennis or golf or rugby or soccer), sauces and sliders. There are eight of those (think fried chicken, sirloin and tilapia), along with a dizzying array of dipping sauces, ranging from cilantro ranch to Caribbean honey.

Then, if you're up for some fondue with your football (and why wouldn't you be), order some mini funnel cakes and doughnut holes for dessert, which you'll dip into cups of chocolate, strawberry or dulce de leche.

Consider them delicious little holes in one.