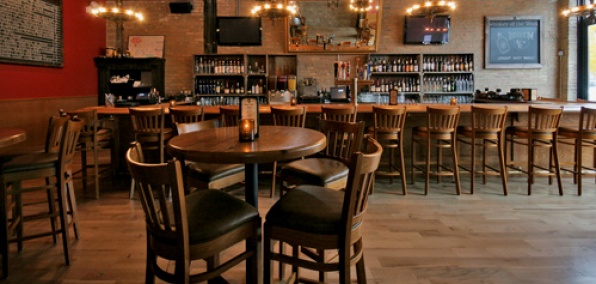 Cold, wet Friday afternoons are good for at least one thing: they go really well with a stiff belt of whiskey.

So let us present Pitchfork Food & Saloon, a Gary Cooper of a corner saloon that rolled into Irving Park last night with enough brown liquor to warm your bones from now until…well, we're not going to put any time limits on this.

First things first: why, yes, we think there is a popular indie rock website and music fest also named Pitchfork. This steer-antlered bar has nothing to do with that—it's more of a country-western jam session between whiskey and barbecue, a collaboration from the guys behind Waterhouse and Rebel Bar, and the guys from Cordis Brothers Supper Club, each doing what they do best.

So there's the requisite lengthy list of whiskey, rye, scotch and bourbon, and you'll find it easy to explore the Bernheims, Ezra Brookses and Ancient Ages of the world thanks to a nightly spotlight on a single distiller, plus a chalkboard of tasting notes on everyone else.

But after going mano a mano with a potent Fighting Cock (that's a 103-proof bourbon, by the way), you're going to need reinforcements, available in the slabs of saucy ribs, tangy barbecue brisket and succulent pulled pork. For dessert, there's an Evan Williams Bourbon-drenched bread pudding.

Consider that round two.