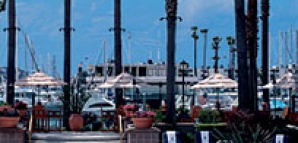 When your spine's comfort is at stake, you need a true professional.

Thankfully, the appointment line is now open at The Boutique Spa—a new $4 million retreat inside The Ritz-Carlton, Marina del Rey. To the left of the lobby you'll find a bright and spacious fitness center with windows facing the lush swimming pool (oh, yeah, and the bobbing boats on the marina). To the right you'll find steam rooms, private showers, a cozy coed lounge and eight treatment rooms, including one for couple's massages. All in all, the place's nautical theme may make you feel like you're back on that yacht of yours.

Aside from the requisite spine-kneading (which can also be done in an outdoor cabana), you might also want to try out the Reel Gentleman, a 60-minute skin-clearing facial, or the Urban Rejuvenation, a facial designed to remove the smog from your shining visage. Afterward, nobody will rush you out, so you're free to hit the gym equipment or stay mellow by the pool, where you can fuel up with a Lobster Club or an Energizer Smoothie from the new spa menu.

Because when it comes to relaxing, you're the true professional.