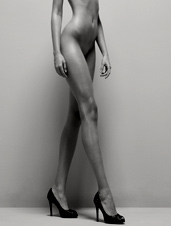 You keep yourself at the forefront of all things cultural.
And it just so happens that this week, culture means a show-stopping photography exhibition of women unlike you've ever seen before.
Perfectly Natural
opens Thursday at Fahey/Klein.
You'll appreciate the first stateside exhibition from Rasmus Mogensen pretty quickly—when you walk in, you'll be surrounded by six-foot-tall photos of women. Women standing proudly. Women with hands on hips. Women wearing, but for high heels, not much in the way of clothing.
But when you look closer—her legs really go for days, don't they—you'll see Mogensen is up to something here. Inspired by an Italian comic-book artist by the name of Milo Manara, these girls look like they might suddenly take flight to rescue you (or, well, your hapless coworker down the hall) from a burning building. And those impossibly long legs really are impossibly long—the photographer has done some serious digital trickery to make us all think about what we expect from our naked women in high heels.
It's a matter you've given a lot of thought.