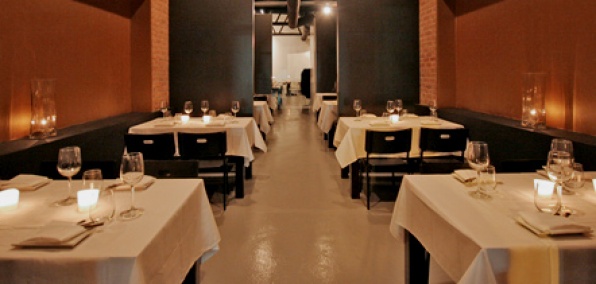 Imagine Carla Bruni. (Curves. Eyelashes. French goddess.)

Now imagine Salma Hayek. (More curves. More eyelashes. Mexican goddess.)

Now imagine them together. Doing things…in the kitchen. Things like making you lobster enchiladas, cream soup with pork rinds and apple foie gras.

Now…okay, enough with the imagining. Just get to Sabor Saveur, offering the sexiest combination of Mexican ingredients and French culinary know-how you're likely to find today. (Though, admittedly, it's still early.)

We know this isn't the only French-Mex game in town. But it's good to have choices, especially when you need a place for a romantic evening—the front is all candlelit tables with white linen. But when you're feeling like bringing a crowd, head straight to the back where high ceilings, an open kitchen and black-lacquered communal tables await your boisterousness.

The chef is originally from a town outside Mexico City, but she's worked at the Ritz Carlton in Paris…which you'd probably have guessed after a bite of the filet mignon (topped with pumpkin seeds and Mexican spices), duck confit (made with a chipotle sauce) and chocolate-braised salmon filet (served in a spicy pepper sauce).

And eventually you'll find cocktails like mezcal enhanced by a single piece of chili-rubbed tamarind candy that's been plopped in.

But it's BYOB for now, so you'll have to imagine that, too.