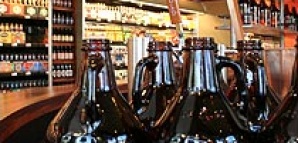 You don't eat much Kashi, and you can't remember the last time you needed artisanal dish soap, so up till now your trips to Whole Foods have been mostly social journeys. But you always said if they came up with a good idea that involved beer, you'd take a look.

They finally have.

Comfortably removed from the supermarket area, the new Whole Foods Market Bowery Beer Room is a bit like going to a bar (albeit an extremely well-lit one) and getting your order to go. It sports a full wall of bottles and a central bar monitored by a knowledgeable "beerkeep." All told, there are more than 200 types of cold ones, many of which you won't find anywhere else in New York. They range from pilsner and weisse to porter and lambic, stored in everything from tall boys to wine-sized bottles.

But the real highlight of the Beer Room is the growler, which just might become your beer receptacle of choice. Named for the sound the CO2 makes when the vessel is opened, the growler is a half-gallon dark glass jug that they'll fill up with draught beer at the bar. You can choose between six beers on tap—local gems like Ommegang Ommegeddon and Captain Lawrence Liquid Gold. The reusable growler itself will cost you a whopping $3, but you'll get it at no charge if you fill it this week.

So carpe cerevisiam, as it were, or you'll be out half a farm-fresh cantaloupe.