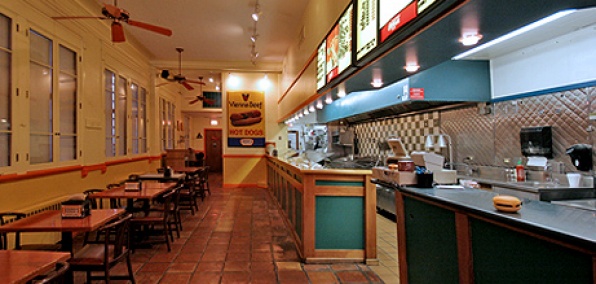 The perfect burger is a strange, elusive beast. Mythic almost.

Some have reported it to be gargantuan ("It was a full pound I tell ya!"). Others claim it's small and exotic ("We seen 'em. Itty-bitty things. Kobe sliders, they was.").

Now new reports are coming in. This could be it. Pack your gear—you're heading to Evanston. Introducing Edzo's Burger Shop, soft-open now and soon ready for some serious investigation.

A throwback to the 1970s, the decor salutes those mustard-yellow and ketchup-red greasy spoons that once littered Dempster Avenue like so many beer-can pull-tabs. You even stand beneath a vintage Coke sign at the counter as you contemplate the Vienna Beef franks, plump beer-braised Wisconsin brats, and thick, mixed-to-order milk shakes.

Then there are those burgers. A culinary school grad (who spent time on the line at Tru and Nacional 27) is behind the place, grinding the fresh chuck every morning. You can pick either a cooked-to-order flame-charred half-pounder or the flatter quarter-pounder pressed—smashed, really—into the griddle, thereby sealing in its juices.

And while you'll appreciate this time-tested approach, you're not afraid of a little innovation. For that we direct you to the menu of hand-cut French fries, which are conduits for such decadence as bacon, cheddar, Buffalo sauce and even truffle salt.

Now that's having it your way.