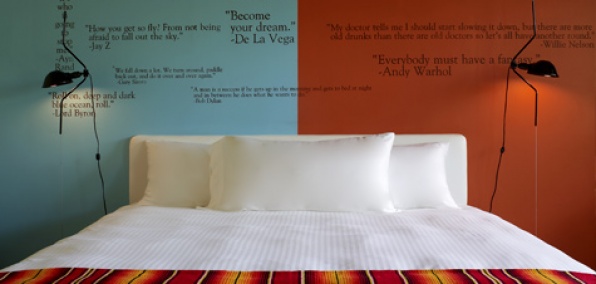 It's only the middle of the week, but you're already feeling antsy for the weekend.

You need a jaunt to a beachside getaway. A place where you can catch some waves, walk around barefoot and feast on Texas-style barbecue. Cheap beer wouldn't hurt either…

Welcome to the Postcard Inn on the Beach, now taking reservations for its Thursday debut in St. Pete Beach, with rates as low as $99 a night.

Think of the PCI as a little slice of Baja on Florida's Gulf Coast (where things get noticeably more tubular than in Miami). Brought to you by New York restaurateur Stephen Hanson (the man behind Ruby Foo's and Primehouse), the laid-back hideaway is a revamped Travelodge that's been outfitted with vintage surfboards, tire swings, hammocks and a photo booth.

If all the surfing and bocce ball whets your appetite, there's an outpost of NY's Wildwood BBQ and Burger, where legendary pit-master "Big Lou" Elrose will be serving up pulled pork sandwiches and ribs. You'll also be happy to know the owners have preserved a ramshackle beer hut called the Swigwam, where they've added a few upgrades like flat-screen TVs, ceiling fans and $3 beers, including a brew commissioned specially for the restaurant called Cold Ass Beer.

Perfect on a hot ass day.