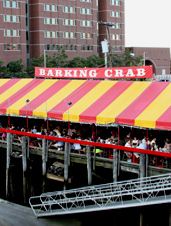 We're here to help.
Between the sudden drop in temperature, the Sox tossing away their chances of a Series run and the Pats' soul-crushing OT loss, some news on the bright side of life is needed, and it comes to you today packaged in the form of fish tacos…
Say hello to
Express Lunch at the Barking Crab
, a new option for you along the waterfront that just rolled out this week. And like your favorite vodka martini or the fine films of one M. Night Shyamalan, it's presented to you with a little twist.
Starting now, once you order your midday sustenance from the new
Express Lunch menu
, cue the stopwatches. Should more than 10 minutes pass and you're not feasting on whatever bounty you requested: the meal is on the house (you may want to sit in the slowest-footed waitress's section).
So whether you're a hungry cog in the giant Financial District wheel, a South End denizen looking for a chance to rediscover how the Crab stays in business all winter (hint: the funky vibe in the dining room), or just in the Fort Point Channel area and curious about the new
Salmon Hot Dogs
(made from fresh Washington State salmon), we thought the looming specter of a possible free lunch would be the little bit of noontime sunshine you needed.
That, or you actually wanted a meal served to you quickly.