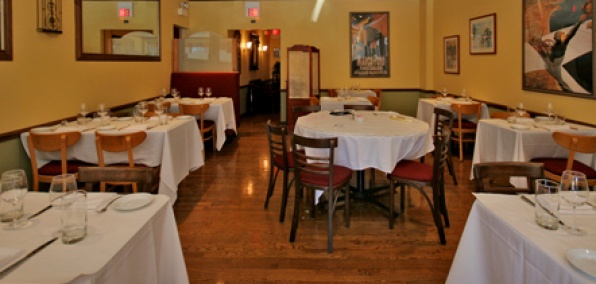 There are two ways to reinvent yourself. The first involves hard work and talent. The second involves just plying everyone around you with plenty of free booze.

Of course, then there is the splendid rare bird who does both.

Introducing Jacky's on Prairie, which opened Wednesday as the latest incarnation of Evanston's Jacky's Bistro. It ushers in a new era of fresh oysters, salty frites and—only because you made the trip all the way to the North Shore—free-flowing bubbly.

Laissez les bons temps rouler.

On first inspection, you'll find the space retains the original white-tablecloth, red-velvet charm, accented by newly painted, butter-colored walls and even more vintage posters than ever before. (In other words—it's all very, very French.)

Yet it's still the kind of place where you can prop yourself at the tiny copper bar to snack on Mussels Catalan Style (sautéed with Spanish sausage and cava) and sling back Fig Caipirinhas or a cucumber-and-dried-chili margarita called El Hombre. (Okay, so maybe not entirely French.)

The new chef—who was most recently at Blind Faith Café—thinks you can handle a little Indian curry spice in your roasted cod cheeks or the occasional Moroccan vegetable tagine. And on Sunday, your brunch of Duck Confit Eggs Benedict or braised short-rib-and-Brie sandwich is accompanied by something even more exciting: complimentary champagne.

Forget the Purple Line. Let's start digging a Chunnel.