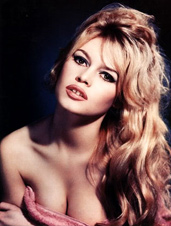 Imagine, if you will, that there was a bar sculpted in the spirit of Scarlett Johansson.
Now imagine if Scarlett had recorded a few more songs, posed naked in
Playboy
and introduced the cinema-loving world to the aesthetic benefits of both the shoulder-less blouse and the bikini.
Then you'd have
Bardot
, a cocktail club as sexy as its inspiration, French temptress Brigitte Bardot, opening this Thursday in Wynwood.
Brought to you by the owners of the Townhouse Hotel and Sra. Martinez, it's all a bit underground-feeling here—there's no sign out front and you enter through the back (around the corner on 34th St), where a red canopied roof leads the way to a lounge outfitted in leather-studded couches, a vintage pool table and antique backgammon sets.
It's the kind of place you'll take your latest budding starlet on a night when Shameless Burlesque is performing (which will be often) or after you've had your fill of art on gallery night and are ready for a stiff Sazerac and some live music.
If your date wore a shoulder-less blouse or a bikini, we think it'd be a nice touch.