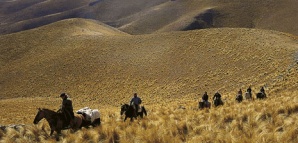 You've always cultivated an appreciation for the unusual.

So when you're looking for endless skies, roaming cattle and some mean barbecue, don't think American West—think South America.

Spring is coming to the pampas, the vast, grassy plains home to Argentina's gauchos—think cowboys, sans Stetsons—making now the perfect time to get out on the range, Latin-style. In the heart of cattle country, you'll head off on horseback across the plains, or round 'em up with boleadoras (three-balled lariats). And because nothing says machismo like a big hunk of meat, get your protein fix at daily asado barbecues, where everything from the flank to the better-left-untranslated chinchulines is grilled over the fire, and the carne will trounce any prior steakhouse loyalties. (Sorry, Luger.)

The tiny colonial town of San Antonio de Areco is home to the sleek new hotel Patio de Moreno, with the flat screens, wireless internet and on-call masseuses the rugged ranchers never had. Spend your evenings getting to know the in-house wine bar, stocked from local vineyards—or make an appearance at the local watering holes with a pulpería crawl. And, as a hotel guest, you have access to polo, golf and tennis at the San Antonio de Areco Country Club, for those days you'd rather sport up than round up.

After all, you can't be a rough rider all the time.