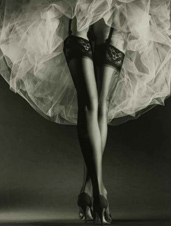 The female form.
You've long been aware of its charms. You've appreciated it. Even, yes, interacted with it from time to time.
But not like this.
Welcome to
Sotheby's Photographs Auction
, where you can pick up some soul-stirring examples of said form—as exemplified by ladies named Stephanie, Cindy and Marilyn—accepting bids today.
It's long been time for your budding art collection to loosen up, ideally by shedding some clothes. And here, you'll find plenty of options to help you do just that. For instance:
Lawrence Schiller's shots of Marilyn Monroe enjoying a swim in 1962. (Evidently, a bathing suit was not readily available.) The lot (of 12) will run you 50 to 70 grand, but we can't think of a better way to say "Happy birthday, Mister President"—even if it's not your birthday and you're not the president.
This fetching image of Stephanie Seymour, taken by Richard Avedon. We assume the logic behind it was something like: in case one of the world's most beautiful supermodels wearing a sheer dress isn't enough, here's an extra peek. (We like the way they think.) It'll run you 20 to 30 grand, but it's bound to appreciate in value.
And continuing the theme of beautiful women wearing little, there's Annie Leibovitz's tempting photo of Cindy Crawford adorned with only a snake. (Rest assured: she wears it well.) And at an estimated 5 to $7000, it's a relative bargain.
Of course, there are also handsome (if less revealing) shots like Leibovitz's famous
Rolling Stone
cover of
John and Yoko
, as well as portraits of
Elvis
,
Patti Smith
,
Andy Warhol
,
Winston Churchill
and gorgeous images from such masters as Avedon, Mapplethorpe and Irving Penn, who died just this week. And no auction would be complete without a whole bunch of shots of rocks, and flowers and so forth.
We just figured you weren't as interested in those.