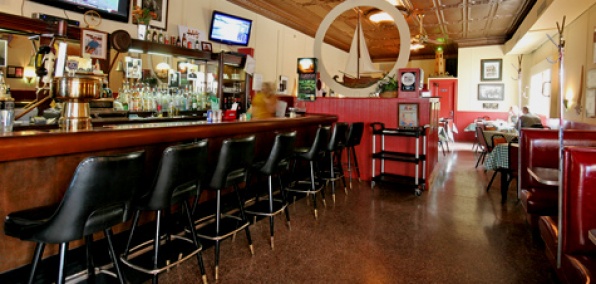 Classics aren't born. They're made.
They can, however, occasionally be reborn.
It's our pleasure to reintroduce,
Club Lago
, now—once again—serving old-school Italian favorites in River North.
Things looked shaky there for a while. Six months ago, a 50-foot chimney tower collapse threatened to staunch the river of red sauce that's been flowing here since 1952 (and erase the location of De Niro's
memorable scene
in
Mad Dog and Glory
).
But after a half year of sweat and toil, you'll find that things are…pretty much exactly the same. The owners—grandsons of the founder—confined rehab work to the kitchen, preserving the red vinyl vintage booths, terrazzo floors, tin ceiling, nautical theme and that velvet masterpiece of Old Man Daley looking down from above the bar with eyes that seem to follow your every move. You'll also find regulars who slink in around 3pm for that quick shot of bourbon at the bar. (They'll still save your seat.)
But there have been some (tiny, totally nonthreatening) changes. While Chianti waits alongside your plate of mostaccioli and meatballs, when you're up for a beer, there's a new craft brew lineup (Bell's, 312). You'll also find a few new contemporary Italian dishes like
The Exploding Eggplant
—actually it's baked with some spicy Italian sausage—so, no, it doesn't really explode.
Just leave Luca Brasi at home.