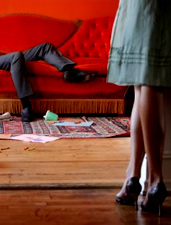 You can feel it in the air. The season. It's almost upon us. And with it come the inevitable house guest requests.
(And this year's a doozy. Not only for the usual Art Basel and South Beach Food and Wine festivals, but there's also the Super Bowl to consider.)
Which is why you'll be directing those hospitality requests to a little Web presence called
Airbnb
, a gem of a site that lists short-term rentals for as low as $69 a night.
Think of Airbnb as a less scruffy version of CouchSurfing crossed with a less sketchy version of Craigslist. The site lets people rent out their condos or houses for short stays (anywhere from one night to a month), and because each host puts up a profile where past renters can post reviews, you know everything's on the up-and-up.
Miami listings include everything from artist lofts to oceanfront condos on Collins Avenue to deco apartments in South Beach (most for less than $300 per night). Booking is pretty simple—just enter your dates and peruse the available pads, which include photos, map views and lists of amenities. When you've decided on a spot, you can email the host and set up the transaction.
Which means come February, you could be hosting a wine-soaked afterhours soiree at a modest
four-bedroom Moroccan hacienda on the mainland
.
Belly dancers not included.