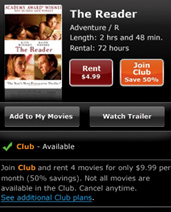 Your phone does a lot.
It
rates beauty
,
dodges traffic
and makes the occasional phone call.
And while all that's well and good, you get the feeling it could do just a bit more. We're thinking a screening of
The Godfather
is a good start.
Introducing
Mobile Movies
—the first mobile site around that enables you to stream the latest popcorn flicks and indie dramas on your phone—available today.
The site works on more than 30 different smart phones (your brick phone, somehow, is not on the list) and goes where neither Netflix nor Blockbuster has gone before (i.e. your phone). Starting now, you'll have full, anytime access to 350 movies and growing—with
Inglourious Basterds
already in the pipeline—thanks to partnerships with studios like Paramount Pictures and Universal.
Imagine the possibilities: catch
Ferris Bueller's Day Off
while ditching work at the de Young, stream
Crossing Over
in the airport en route to Sayulita or take in
Zack and Miri Make a Porno
on that conference call with marketing.
To get started, just browse the listings or preview the free trailers to find a title you want to watch, order it à la carte or join the monthly membership, then stream it instantly. Like a video store, you'll have access to movies for a day or up to five.
Just without any annoying clerks.