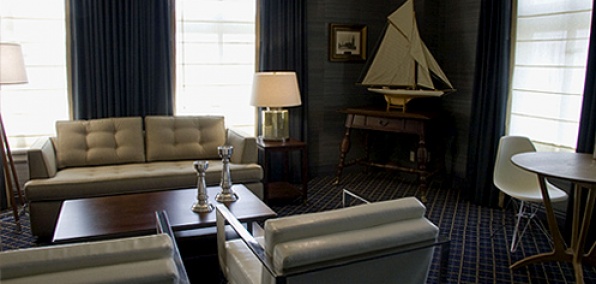 When you sneak into a hotel, things get sweaty pretty quickly.

No, really. Weights. Kickboxing. The sauna. It's intense.

Especially now that the rooms at the Los Angeles Athletic Club have been totally transformed—including nine new suites open for reservations starting Friday.

If you don't live Downtown, you might never have heard of this old-school, members-only ode to deal-making over squash, yoga, tai chi, boot camp, basketball, volleyball and…scotch. But the classy revamp means now's the time to check it out, since, for the rest of the year, hotel guests have free use of the fitness facilities (you'll have to mention UD when reserving).

All the rooms have been redone, but we suggest one of the nine new suites, all with themes like the Country Club, the Yacht Club or the Social Club—that last one's where Charlie Chaplin once lived (his quads were legendary). The amenities are basically the same in each, but your choice is pretty important—if you book the memorabilia-choked USC Club Suite for a night away with your favorite UCLA alum (or the UCLA suite with your favorite USC alum), things could get ugly.

Of course, then you get to make up.