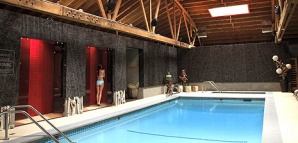 When you need to relax, you really need to relax.

Good thing Voda Spa, soft opening on Wednesday in a former mortuary, has 14,000 square feet filled with all sorts of traditional Russian ways to get you loosened up and feeling refreshed-ski.

After leaving your keys with the valet, you'll step into a cavernous lobby with a water wall large enough to drown out the fire department across the street. To the left you'll find a café serving everything from flavored protein shakes to strip steak; to the right, a classy lounge with flat screens, plush leather seats and—liquor license pending—a full bar to lull your next corporate takeover into submission. (Also in the works: late-night hours after the bars and lounges close for music and fun around the pool.)

In the back you'll have access to a large pool with a nearby fireplace (helping you avoid those post-swim chills) and a banya steam bath that gets cranked to a scorching 215 degrees. (Beware: During men-only hours, there might be some elderly nudity.) You can also receive: a Russian Bear deep-tissue massage, a wax in a sunlit room (meaning no stray hair goes unplucked) or a traditional shave in the old-style barbershop.

And you thought the Russians only did vodka and chess.