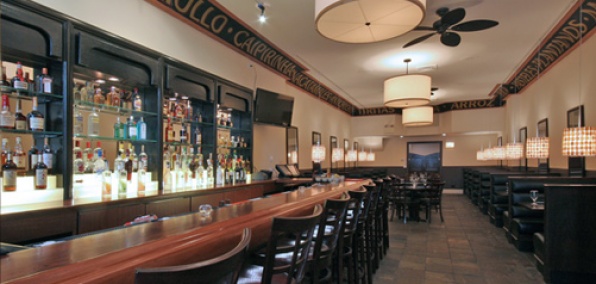 Between
flaming margaritas
and
tequila ice cream
, the last couple of weeks have been pretty crazy in River North. You could probably use a break.
Good news: it's daiquiri time.
Welcome to
Havana
, a new rum-and-tequila oasis that quietly opened Friday, serving up pan-Latin fusion cuisine and Caribbean cocktails midway between Xoco and Mercadito—just in case you need a refueling station as you shuttle between the two.
The former Mambo Grill space now looks like a postcard from Havana, circa 1949. During lunch, you'll slip into one of the dark leather booths in the back while palm-frond ceiling fans sway overhead. Your discreet three guava-martini lunch will be fortified with a traditional Cuban sandwich, fried green plantain tostadas and Latin fries served with a chimichurri dipping sauce.
In the evening, take a table near the front windows, where accordion doors open to the splendor that is Clark Street. Take it in as you make your way through
Apricot Chipotle Pork Chops
or a Cuban-style rib eye while sipping your guava-infused mojito, a classic caipirinha or even something called a
Brazilian Margarita
, with cachaça standing for tequila.
We think it's earned a night off.