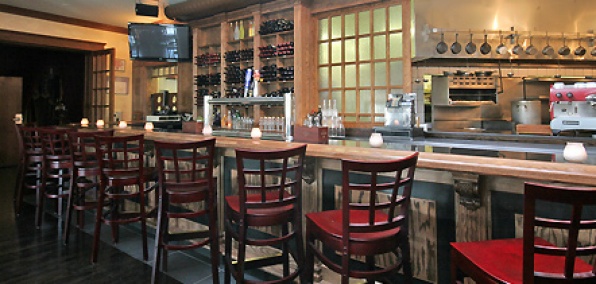 Sometimes you want dinner and dancing. Sometimes you want dinner and dancing…and football.

May we be the first to say "touchdown."

Introducing Orvieto, your new place for crisp pizza, limoncello on the patio and a touch of sports madness, opening Tuesday. And since it's Green Dolphin Street's new restaurant, maybe some rug cutting afterward.

Okay, wait. Before we go on… You're looking confused. You're thinking: Green Dolphin Street had an old restaurant?

You remember—white tablecloths. Fancy food. No name. Pretty empty. You'd pass it when making a beeline for sweat-drenched Boom Boom Room Monday night insanity or a little Latin Jazz sizzle on Tuesdays.

But now that it's got a million (or so) flat-screens—playing anything involving baseball, football, a wicket or a mallet—you can come here whenever you just want to watch some football (American rules or otherwise).

The name honors Italy's famed white-wine growing region, and you can find plenty of its namesake here. The new Sardinia-born chef's a veteran of Pizza D.O.C., so drop in for Peroni and calamari and, of course, those pies covered in imported ham, unusual sausages and maybe the occasional fried egg.

And not that futbol isn't romantic, but you'll be happy to know that the back patio remains lush (and television-less), your sanctuary for sharing Involtini di Pollo or Gnocchetti Sardi with something crisp, lean and Italian.

And maybe some wine.