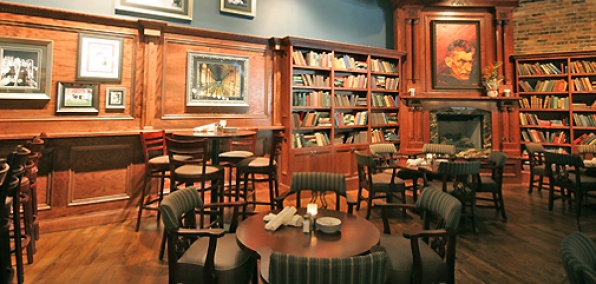 The Irish have a way with words. They also have a way with beer.

Their true genius, however, is having their way with both at the same time.

So may we present Beckett's Public House, which quietly opened last night for dress rehearsals before its official debut on Friday.

Like its Victorian cousin Wilde, located on the other side of Lakeview, this is an Irish pub named for one of that nation's best playwrights. Unlike Waiting for Godot, however, this enterprise promises something more like a Hollywood ending for your night.

Yes, there's a towering, intricately carved bar that looks like it's been shipped directly from Dublin, but the walls are covered in shiny framed images of everyone from Audrey Hepburn to that noted Irishman Michael Jackson, and the occasional Abe Lincoln portrait thrown in for that Beckettian absurdist touch (or Illinoisan pride—take your pick).

It's a place where you'll find yourself propped up at the lengthy bar contemplating the existential questions of your time: e.g., Does a Belgian-style Brother Thelonious—one of the many boutique beers here—go best with the Cedar Plank Salmon, the bacon-topped Bison Burger and beer-cheddar fries, or whiskey-soaked molasses hot wings? (The answer: yes.)

But come winter, you'll settle near the roaring fire of the bar's library, where overflowing bookshelves will be the best spot to find something utterly engrossing.

Like another pint.