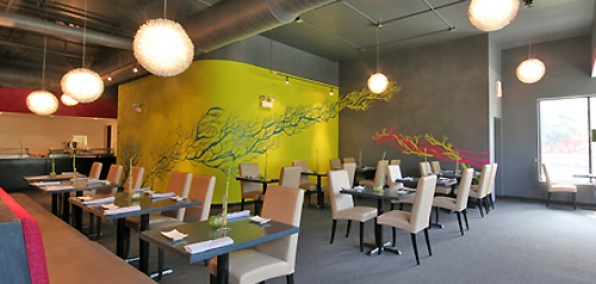 The ocean depths hold many mysteries. So, apparently, does the occasional Ravenswood strip mall.

Prepare to explore the hidden reef known as Blue Ocean, opening Thursday.

From the outside, it's inconspicuous enough, so your first job is finding an entrance. (There are two, so we like your odds.) But on the inside, it's like Jacques Cousteau throwing an undersea party for Duran Duran.

When you and your fellow deep-sea adventurers want to plan your next Maui scuba excursion over sashimi platters, caterpillar rolls or a Red Dragon (big eye tuna over soft shell crab, avocado and asparagus in citrus sauce), enter on Leland. You'll discover a huge slate-gray, neon-coral and lime-green room with round silver-sparkly things hanging above the booths. (Okay, it all sounds like an '80s music video, but even Kanye would agree that it's VMA-worthy.)

But if you and a date just want to slip in for a quiet dinner of filo-wrapped rib eye, braised short ribs or a tuna flight, there's the lounge entrance via the parking lot on Clark St.

When it gets its liquor license, Blue Ocean will have a wine and sake "store" stocked with chilled bottles. Take your pick and be led into one of two secluded bubble-shaped booths, big enough for just the two of you.

Just remember to come up for air.