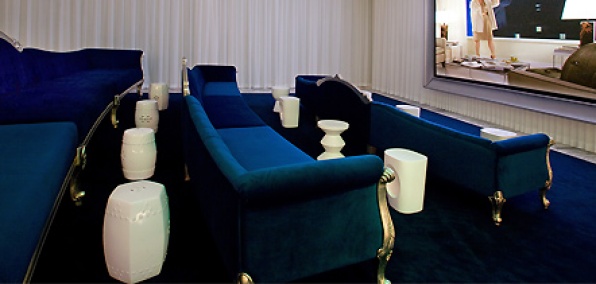 You're familiar with the classic date moves: dinner and drinks. Dinner and billiards. Dinner and a movie.

But sometimes you have to take a classic and flip it on its head. Or just sex it up and add cupcakes.

Introducing Movies at the Icon Brickell, your new den of movie-watching pleasure, launching this Saturday night at the downtown skyscraper.

Tucked away on the 15th floor of the glossy Icon towers, the theater feels a little like Bruce Wayne's personal screening room (if Bruce ever stopped brooding long enough to enjoy a nice popcorn flick). The place was designed by Philippe Starck (who, as you know, is probably the most famous designer in the New Design style), and the first thing you'll notice when you enter is the overall swankiness of it, from the plush blue velvet couches to the perfectly vacuumed carpet (this ain't the AMC…you can actually take your shoes off here) to the enormous, nine-foot-long, high-def flat-screen.

Movie night happens every Saturday, and first up on the docket is the greatest American film of all-time (per AFI), Citizen Kane. If that's not enough to get your date excited, you might also mention that there's complimentary popcorn and cupcakes, and champagne is available by the glass or bottle.

It's a long movie—go for the bottle.