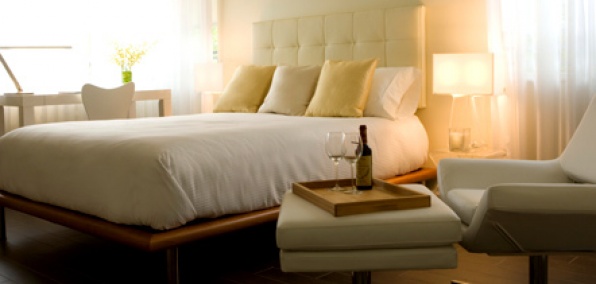 In this city there are the big, flashy Vegas-style hotels, and the small, modest properties that feel like 1960s beach bungalows.

We love them both in their own way, but today we explore the latter…

Say hello to The New Hotel, an eco-friendly inn that's sexy enough for your next quick getaway, now open in North Beach.

Occupying a renovated deco apartment building two blocks from the beach, this is where you'll want to put up those Prius-driving friends of yours, or drop in with a companion for a super-cheap staycation (intro rates start at $79 per night). All ten rooms have been outfitted with fixtures that would make Al Gore beam like he just reinvented the Internet, from low-flow showerheads and organic cotton sheets, to energy-efficient key cards that control the room's electricity, so when you leave, everything shuts off.

The hospitality starts right at check-in, when you're treated to a complimentary drink at the pool bar (we recommend one of the ice-cold Land Sharks). If you get hungry, a former Setai chef slings creative bar bites like Argentinean Morcilla Sausages and Fried Cornalitos (baby sardines), and on the weekends there'll be live music.

Unplugged, of course.