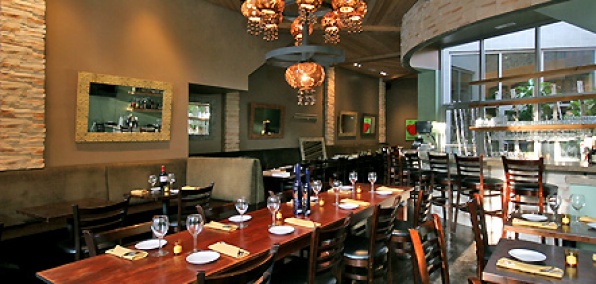 Life is all about tough choices: Her or her sister. Stay the night or go home. Tequila or no tequila.

Actually, the last one's pretty easy.

Introducing Rustico Grill, the more polished, fully liquor-licensed Logan Square spin-off of BYOB favorite Mixteco Grill. Opening Tuesday, it's accepting reservations to bathe you in those rich moles and, best of all, fresh margaritas you so richly deserve.

You'll step into what feels like a Mexican lodge, the kind of place where wealthy land barons gather after a hunting excursion to sip their fine and smoky anejos. There's a communal table in the center of the dining room, but head to the velvety banquettes in the back, set against a backdrop of stacked stone walls, a glass atrium and a chandelier with more dried gourds than an all-maraca marching band.

The menu is virtually identical to Mextico, but now you'll pair your Pescado a La Veracruzana (wood-grilled mahimahi with capers, olives and pickled jalapeño) or Camarones Poblanos (shrimp in luscious poblano cream) with an exquisite reposado, blanco or anejo from a lengthy tequila menu Rustico is currently finalizing.

The margarita list, however, is all sorted out: there's a $5.50 house version, but you'll have the upgraded Rustico Margarita, made with 100-percent agave tequila.

Because sometimes, there's really no choice at all.