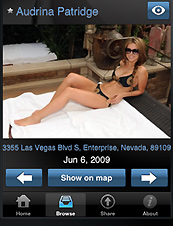 It's not that you have trouble getting numbers. Far from it.
But you haven't happened to bump into Blake Lively lately, and so you might need a little help from fate—or a new star-stalking app called
Celebrisee
, now available on your iPhone.
A fairly genius and only slightly creepy cross-breed of celeb-gossip sites and friend-finder apps, Celebrisee compiles a long list of star sightings by person as well as by location—so if next week you notice Megan Fox is getting photographed at the Starbucks half a block away from the Starbucks you visit every morning, well, might be time for a change of scenery. (Maps included.)
Or maybe you've been using that phone to
bang out a script
that's perfect for Jennifer Aniston. (It's a touching love story about a star who falls in love with a man who finds her via iPhone.) Type in her name, and you might get some pointers on where to catch her once she returns from New York.
If you're feeling more open to destiny (or laziness), you can see who's been spotted in your area—and if you're feeling especially generous, you can submit your sightings for the benefit of others.
Somewhere someone is dying to run into Rob Schneider.