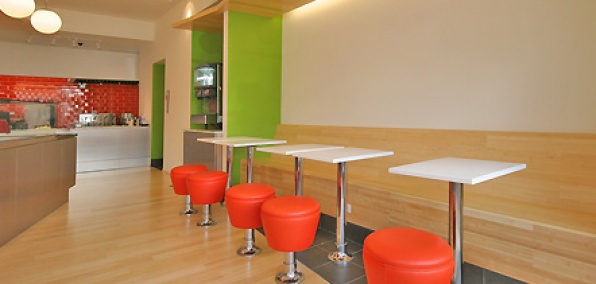 It's Monday, so you're probably pretty busy catching up with email, hammering out this week's deals and/or preparing a list of alibis about where you were this weekend. So we wouldn't interrupt you if this wasn't really important.

It's about lunch.

Falafill opens Thursday in Lakeview and promises to improve your life—and maybe the world—one stuffed pita at a time.

The original owner of onetime belly-dancing hotspot, Souk, is among the owners, but you'll discover he's gone all California-mod-sophisticated for this Middle Eastern quick-serve: bright colors, clean lines and green touches like eco-friendly flooring, lights and—if we're not mistaken—Al Gore in back whipping up the hummus. Oh, and the only belly to be concerned about here is yours.

The way it works: walk up the counter and order your falafel (bowl or pita: it's up to you). Go ahead, go nuts with the extras: crumbled feta and herbs, muhammara (a roasted red pepper dip with walnuts and pomegranate molasses) or even sweet potato fries (in tribute to that great Middle Eastern tradition of stuffing French fries directly into sandwiches, apparently) are among the choices.

But the real excitement is at the fixin's bar. With pickled mango, tomato chutney, miso-tahini and a spicy jalapeño sauce to choose from, this 25-ingredient-strong list of globally influenced condiments may just alter your life forever.

Or at least until dinner.