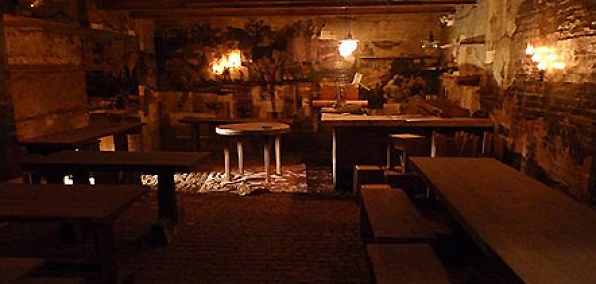 A taco is pretty easy to find.
A taco in a secret underground lair...well, that's
pretty easy to find too
.  
But a brand new three-level taco/ceviche mansion with hidden mezcal dens, pink walls and plenty of tequila is something of a rare institution.
Actually, there's only one: welcome to
Los Feliz
, soft opening this Friday on the LES just in time for your next night of NAFTA-themed revelry. (Canada had its turn
last weekend
.)
Like
Hotel Griffou
on a south-of-the-border bender, Feliz (brought to you by the crew behind
Spitzer's Corner
) is where you'll want to bring the senorita you've been courting for an evening of hat dancing and candlelit tequila sipping (okay, no hat dancing—but plenty of margaritas).
Your night begins in the front room—with its big picture windows looking out on Ludlow, distressed green walls and black pressed-tin ceiling—for a few sips of anejo before heading down the long hallway, down a few stairs, and into a dimly lit cobblestone and graffiti lair. But don't stop there—at least not for long. Down one more small set of stairs you'll end up in the back room, under chandeliers as a DJ spins the perfect margarita-flavored soundtrack.
But if you'd rather keep things on the covert side, rewind back to the front room, look carefully behind the bar and you'll notice a seam in the paint. Wait until no one's looking, give a gentle push and you'll magically appear in an intimate private dining room.
Where we assume hat dancing is decidedly kosher.