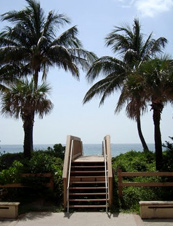 When it comes to beach getaways, your needs are simple.
Lots of sun. Plenty of sand. And the opportunity to hang out with random—and beautiful—European travelers.
If you have to sleep in a bunk bed, so be it.
Welcome to the
Hollywood Beach Hostel,
a hip new seaside sleepery perfect for your low-budget weekends on the Broadwalk, open now.
A boutique hostel brought to you by boutique hotel masters—it's the latest from the Catalina and Riviera South Beach folks—HBH is no different than the bohemian playpens of your post-college European adventures, complete with dorm room setups, weirdly futuristic furniture and mini-kitchens for stashing six-packs/thirty-packs.
You've got a few room configurations to choose from, including the "single and ready to mingle" option if you're flying solo, but in most cases, you'll want to grab a few friends, reserve a four-person room (for as low as $19 per person) and embark on a holiday of Broadwalk cruising (the hostel has bikes), burger feasting (Le Tub is close) and daiquiri sipping at the many tiki bars lining the beach.
And be sure to invite those Scandinavian girls in the neighboring bunk.