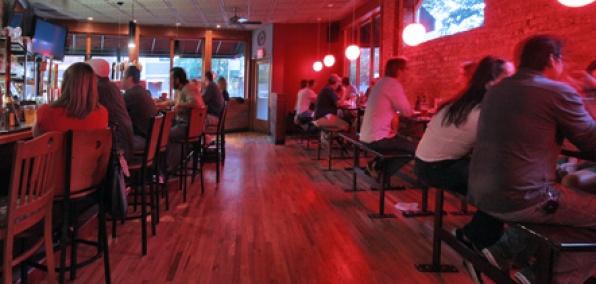 No disrespect to your corner bar, but sometimes you're hungry for more: The whiff of risk. Danger.

And barring that, maybe just some better grub.

Here to satisfy your hankerings: The Bad Apple, a North Center joint with some wicked ideas about mating burgers and beer. Consider it a gene-splicing program for creating monsters of deliciousness.

You'll find this place by following the alluring crimson glow emanating through the front windows. A heavy hand-built bar awaits amidst a rustic, low-lit front section. Hunker down with someone familiar: Half Acre Daisy Cutter, brewed a few blocks away, or explore the exotic brewlands of Canada, Germany, Holland and Ft. Collins, Colorado—where you'll stumble upon New Belgium's Dandelion Ale, flavored with everyone's favorite weed. Well, second favorite. (Crabgrass has its charms.)

The beer, however, is most enticing when it makes its way to your burger. The Black 'N' Bleu drips with Belgian Ale blue cheese, Ole Imperial is topped with stout-glazed mushrooms and the Steak Frite burger is slathered in "beer-naise," a mayo punched up with Goose Island's Pere Jacques.

You'll also find Montreal Poutine, a massive pile of fries soaking in gravy and dotted with salty cheese curds—in case you need to absorb all that brew.

Or just dessert.