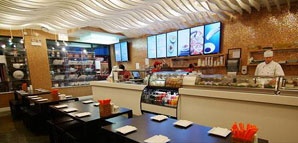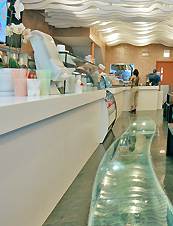 You've always been the type to color outside the lines. You consider speed limits a friendly suggestion and white after Labor Day—well, you'll just see how you feel in September.
For now, all you want is a little Japanese food. Oh—and you want it in Chinatown.
Here to satisfy your capricious appetites,
Joy Yee Plus
, the latest and—dare we say—the craziest new addition to this pan-Asian culinary empire.
Consider your
Dragon Roll
a mere warm-up act before you quickly venture into the more daring realms of
Unagi Popper
(jalapeño slices with cream cheese and eel) or the
Heart Attack
(spicy tuna-stuffed jalapeños). By then, you'll be ready to go all-out samurai by wielding skewers of Japanese-style grilled beef.
This Joy Yee takes over space in the center of Chinatown Square last occupied by the original (now just a few doors down). While the handsome communal tables mean you'll still have to squeeze in next to your neighbors, the vibrant gold-orange tile walls, green opalescent floors and funky HD screens mean you won't mind bringing someone you'd actually like getting close to.
In fact, in a move that might make you think you're in South Beach rather than the South Side, you'll find a flashy river of koi zigzagging underneath your feet in the dining room.
But no fishing.