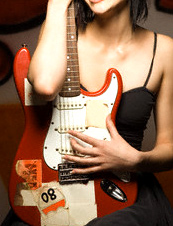 Let's face it. Guitar Hero will only get you so far. When it comes to scoring with groupies, rocking out with an O-face and perfecting that face-melting 12-minute guitar solo, you're going to need something a bit more…real.
That's where
Miami Vintage Guitars
comes in, a little-known source for the rarest, golden god-est guitars in the city.
Run by a self-professed guitar obsessive (who also performs surgery on human beings during the day), this dealership feels a lot like Keith Richards's attic, a treasure chest of all things classic and strummable. Whether you're looking for a '59 Gibson Les Paul or just something really badass and Hendrix-y, you'll want to come here.
It's only open Saturdays, but if you make an appointment a day in advance, they'll let you have the run of the place, plus custom-design any instrument for you or even hook you up with a musician if you need lessons.
Once you've got your ax of choice, you can get the band back together and start touring Asia again. 
Don't stop believing.