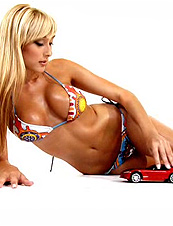 The Internet is great for ogling girls in bikinis and shopping for electronics online, but until now, there's never been a definitive site for doing both at the same time.
Notice we said "until now."
Introducing
Swaxy.com
, a magical, bikini-clad corner of the Internet where consumer electronics and girls in swimsuits come together to spice up your shopping experience.
If QVC partnered with
Maxim
to create an online shopping site, it would look almost exactly like Swaxy.com. (Backup analogy: it's sort of like
The Price Is Right
, only without the game show, and Carey's Beauties stripped down to their colorful, festive undergarments.) Essentially, Swaxy uses short videos of lithe women dancing around with low-priced gadgets to move inventory…among other things.
So the next time you're on the hunt for a
wireless router
(which, coincidentally, doubles as a string-bikini ornament) or a cordless accelerometer (it measures speed, and conveniently fits in model Taren's cleavage) or even a pool cue decorated with a pot-smoking skull, you know which swimsuit-enhanced website to turn to.
If you want to find out a bit more about your pitchwomen, there's also a
Playboy
-esque profile page where you can read up on all their likes and dislikes.
Chelse
, for instance, likes sushi, enjoys tanning and can't live without her bikini collection.
You can't find this information on Amazon.