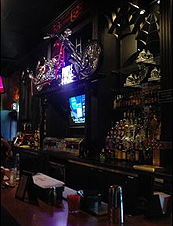 Pyrotechnics. Spandex. Topless groupies flailing away as face-melting solo after face-melting solo worked the jorts-wearing crowd into a frenzy of heavy metal delight.  
Say what you will about Mötley Crüe, but they knew how to get a party going. Which makes them pretty well suited to Vegas.
Introducing
Feelgood's Rock Bar & Grill
, an ode to the booze-soaked excesses of hair metal brought to you by Vince Neil, grand opening on August 1 and soft-open now.
As you might expect from the Crüe frontman, there'll be live rock, heavy makeup (very possibly on guys) and a complete absence of good judgment. More importantly, Feelgood's has one of the loudest sound systems you'll find outside of a stadium, along with a house band trained to inspire the kind of booze-swilling and sugar-pouring that gives hair metal such a good reputation. And if you want a little privacy (we won't speculate as to why), just make your way to the coyly named V-Room in the back, a leopard-patterned den of iniquity that offers a vibe remarkably close to the green room at the Hollywood Bowl circa 1983. Ah, the memories…  
Best of all, Mr. Neil has already used his clout to book some of the most unhinged after-parties this city will see all year, including Whitesnake and Judas Priest's post-show festivities the next time they pass through town.  
There they go again on their own…