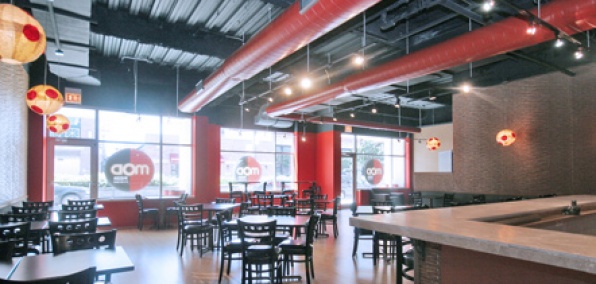 You always keep an open mind when it comes to the important matters of life: Supreme Court nominees. Jay Cutler. … Pizza.

Which is good because we're about to tell you about a revolutionary take on that last one. Brace yourself.

Introducing Mod, a new West Loop pie joint fueled by West Coast innovation, slated to open this Friday.

Tucked into the first floor of a shiny steel-and-glass new mid-rise condo, Mod's gilded, undulating walls and paper lanterns make it seem like great spot for a little after-work antipasti, calamari and—who knows—maybe a martini or two. (Though it's BYOB for the first few weeks.)

Yet there's something deeper beneath its surface…

As you sample offerings like the cheesy Mi Piace Il Formaggio (fontina, goat, ricotta, Romano, basil and white cheese sauce) or the Grand Slam (mozzarella, house-made sausage, pepperoni and crispy pancetta), you'll notice something familiar in its not-too-chewy, not-too-crispy crust. Something perky and tangy. Something a little…Californian.

You're right. Mod worked with a San Francisco bread company to develop its very own sourdough crust recipe. So while it's not quite the crackery Chicago thin-crust you know, or the more even authentic wood-fired Neapolitan, you might just be won over.

But we're sure you'll give it an exhaustive hearing first.