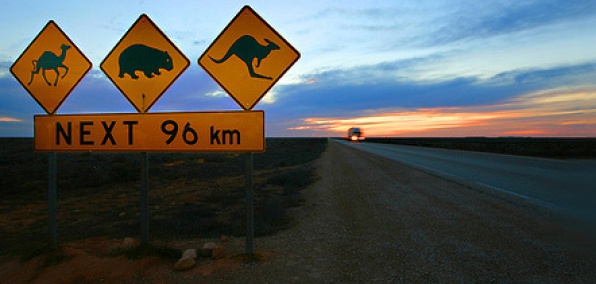 You've seen your share of golf courses, and aside from the occasional sea spray or loch, they tend to have more or less the same features. Start with some rolling hills, throw in a few pines to mark off the rough, and you're usually done.

A few hundred miles of desert, on the other hand, is more than a little unusual.

Welcome to Nullarbor Links, an 18-hole, 848-mile-long golf course stretching along Australia's southern coast, now taking reservations for mid-August.

Before you get too worried for your shoulders, the playing distance is just 6500 yards. You'll traverse the rest of the way in a Jeep, with hotels and lodges dotted along the route for sleepy travelers. Think of it as a four- or five-day golfing tour of southern Australia, starting in the oyster beds of Denial Bay (named after Australia's policy on beerless-ness) and finishing up near the site of their first gold rush, with plenty of beaches in between.

Of course, all that scenery means you'll be facing a golfing challenge the likes of which you haven't tackled since that putt-putt in Kissimmee, Florida. You'll wedge your way over wheat fields, around a wombat hole and, if you aren't careful, through a few herds of kangaroo.

Which we believe calls for a nine-iron.