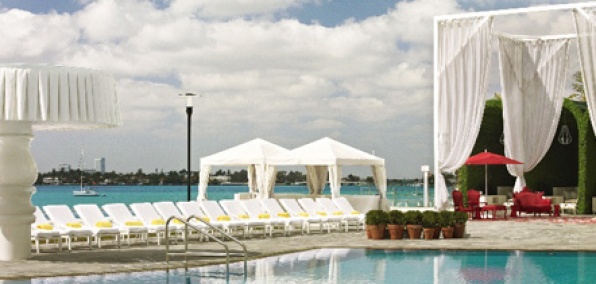 Some days in Miami are full of responsibility.

Other days feel a lot like a Jay-Z video.

The boats, the cars, the women…the Chinese Five Spice Cuban French Toast.

Which brings us to this weekend, and the launch of possibly the most indulgent brunch in the history of Miami—Mondrian Sundays at Asia de Cuba, a new daylong poolside brunch bacchanalia.

It goes a little something like this. The bayfront pool patio at the Mondrian, with its trippy oversize cabana beds, red neo-Victorian furniture and white couches built for a dozen of your closest friends, becomes the backdrop to a monstrous brunch buffet that extends from the indoor dining room to the sun-kissed outdoor pool bar.

People will be arriving by boat, everyone's welcome to dine in swimsuits and aviators, and there'll be a live DJ on hand to make sure those champagne-wielding Brazilians have something to dance to. (You will, of course, be what they dance with.)

On the all-you-can-eat menu: Asian Style Cured Salmon With Avocado Crème Fraiche, homemade Guava Pastelitos, Huevos y Bacalao (poached eggs on salt cod cakes), Grilled Mojo Rubbed 12 oz. Strip Steak With Miso Poached Eggs, and dessert-table treats like Lemongrass Flan and Café con Leche Cheesecake.

You might want to go for a run Saturday.