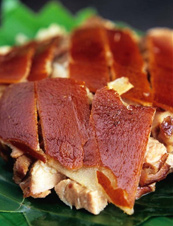 When it comes to refreshments on gallery night, the best you can usually hope for are a couple of free beers, some cheap Australian shiraz (we're looking at you, Fredric Snitzer) and the occasional suggestive look from a comely gallerina.
Which, when we think about it, isn't that bad.
But this is
you
we're talking about. You deserve the best. You deserve to eat the exhibit. Tomorrow night.
Introducing Jason Hedges' new art installation: a whole roasted pig that art lovers (and pig lovers) are encouraged to consume in the courtyard of Locust Projects. (We love performance art.)
We could go into much detail about how the work, called
"Untitled (Judd Caja China),"
is based on artist Donald Judd's "Untitled 1968" sculpture, and how Hedges' work is an exploration of primitive cooking methods, and blah blah blah. But we know you just want to hear about the succulence level of this slow-roasted porker (it's high to extremely high), and when to be there.
At around 8pm, the pig will emerge from the "caja," the Chinese roasting contraption
whose virtues you know all too well
, and will be served, family-style, in one of the most delicious art shows you will ever have the pleasure to attend.
Bring napkins.