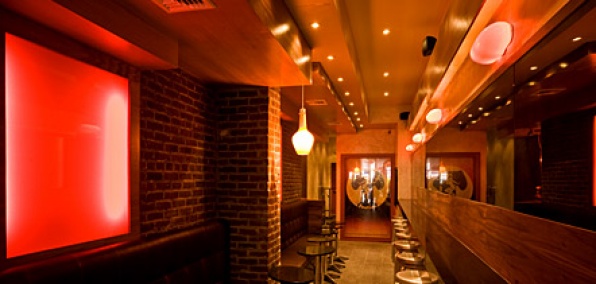 Happy Canada Day.
Yes, we know you're excited. We are too.
It's a day to celebrate wondrous delicacies like ice beer, moose burgers and William Shatner.
But lately we've been longing for a new Canadian obsession—and we think we've found it. It's called poutine, otherwise know as fries smothered in gravy, and now it's finally getting the glory it deserves.
Here to fully satisfy your late night, Quebecois, french-fry jones is
T Poutine
, the first all-poutine shop in New York, opening next week on the LES.
While the idea of a late night French-Canadian restaurant dedicated to the quiet, humble art of soaking french fries in sauce and toppings may sound a little
too
Canadian, remember, that's impossible. Plus, thinking about some of the rum-soaked late night situations we've been in recently, we think that fries covered with bacon, eggs and gravy at 4am is probably a pretty strong business plan.  
You'll want to drop in on the fake wood panel and brick madness after a night of marauding at
Above Allen
or Mason Dixon, when you're not quite ready to go quietly into the night. It's a simple place: a few tables, a counter overlooking the fry-o-laters, and, like any good poutine joint, a DJ providing the perfect backdrop to take you into the wee hours.
And in case you're worried about the source of your potatoes, they're buying them fresh, slicing them in plain view at the back of the restaurant and frying them up to order.
Which is clearly your primary concern at 4am.